Foundation background/history
Foundation background and history of the NEMC
Foundation background
Grounds for foundation
Article 25 of the Emergency Medical Service Act (National Emergency Medical Center): The Minister of Health and Welfare may designate the National Emergency Medical Center among general hospitals.
Article 5 of the "Act on Establishment and Operation of National Medical Center" (business): Coordination and support for various businesses related to emergency medical services.
Article 27 of the Emergency Medical Service Act (Emergency Medical Service Center): Division of Emergency Healthcare of the Ministry of Health and Welfare -2403 (2012.6.20.) Consignment of Emergency Medical Information Center.
Current state of organization and manpower (six teams, one office, one room, 16 centers)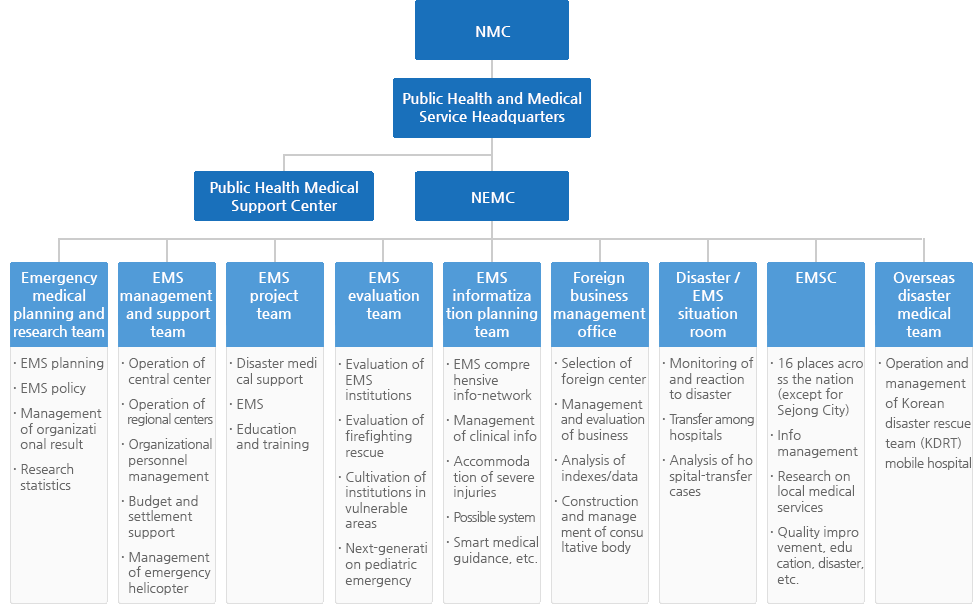 Main functions and objectives
Evaluation of EMS institutions and support for quality improvement activities

Research related to EMS and support for policy development

Coordination and support for duties related to EMS in case of large-scale disaster in Korea or overseas

Education and training for EMS workers

Enhancement of the connectivity between emergency patients and EMS institutions by constructing an efficient EMS information and communications system

Construction of monitoring system for the management of EMS quality

Promotion of advanced EMS by improving the EMSS

Operation and management of Korean Disaster Rescue Team (KDRT) mobile hospital

Management of manpower pool

Management of equipment, supplies, and medicine and medical supplies

Management of manual

Management of education and training

Other duties related to EMS
History
2015
07.

Change of name of Emergency Medical Support Center

00.

글
2014
07.

Establishment of Disaster/EMS Situation Room

04.

Establishment of Foreign Business Management Office
2013
07.

Expansion of the operation of helicopters for doctors (Gangwondo, Gyeongsangbukdo)

06.

Support for EMS cooperation enhancement pilot project within regions (Gyeonggido, Daegu Metropolitan City)

05.

Reorganization in accordance with 2013-17 EMS Basic Plan (four teams one bureau -> five teams)

05.

EMS support for ARF DiREX
2012
12.

Designation of Statistics Korea national statistical institution (Sep) and approval of national statistics (affiliated with EMS statistics)

06.

Reorganization into four teams, one bureau system (expanded into 16 emergency medical information centers across the nation)

03.

EMS support for Seoul Nuclear Security Summit
2011
09.

Began operation of helicopters for doctors (test operation in Incheon Metropolitan City and Jeollanamdo)
2010
11.

EMS support for Seoul G20 Summit

04.

Change in the organization in accordance with the incorporation of the NMC
2009
04.

Expansion of organization of the NEMC (two teams, 20 personnel)
2008
11.

Held National High School Students CPR Contest

08.

Conducted performance assessment of functions of EMS institutions

00.
2006
01.

Enactment and operation of regulations on the establishment and operation of the Emergency Medical Technology Support Group
2005
07.

Expansion of the organization of the NEMC (two teams, 14 personnel)
2004
07.

Construction of the National Emergency Diagnosis Information System (NEDIS)
2003
09.

Conducted evaluation of EMS institutions
2002
01.

Began duties of the NEMC
2001
11.

Establishment of the NEMC as an internal office of the NMC
2000
07.

Designated National Medical Center as National Emergency Medical Center