EMS-exclusive Helicopter (Helicopter for doctors)
Resolves the gap between EMS beneficiaries and contributes to the decline in death and disability of emergency patients
Business summary
Foundation and objectives of the business
Severe emergency patients require prompt first aid and need to be transported to competent medical institutions. However, EMS resources are focused on capital areas and big cities.

To resolve the gap between EMS beneficiaries by introducing and operating EMS-exclusive helicopters with professional medical teams on board to transport severe emergency patients on islands and in mountain areas and contribute to the decline in death and disability of emergency patients.
Business goal
To resolve the gap between EMS beneficiaries with efficient operation of EMS-exclusive helicopters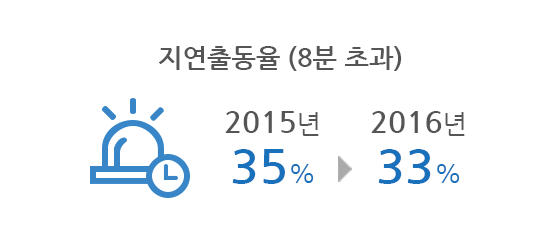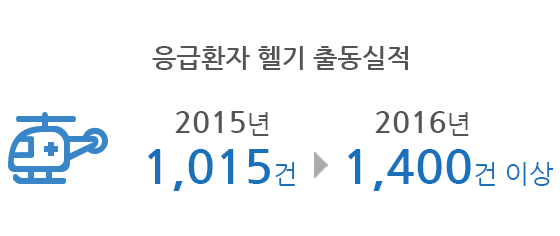 Business summary
Legal basis
Article 25 (1)-7 of the Emergency Medical Service Act: Other duties related to emergency medical services prescribed by the Minister of Health and Welfare
Business contents
Flight target
Patients in need of emergency surgery (treatment) with severe wounds, cardio-cerebrovascular diseases, etc.
Flight range
Within possible distance from the arranged hospital (within 100km)
Flight time
Operated from sunrise to sunset 365 days a year (nighttime excluded)
Flight regions
Incheon, Jeonnam, Gangwon, Gyeongbuk, and Chungnam (to be available from Dec. 2015)
Dispatch system
Dispatch decision: Upon the registration of a request for a helicopter for doctors, the dispatch is decided in real time with the approval of three persons (doctor, pilot, and flight control manager)

To be dispatched (take off) within 5 minutes after the time of registration